Just got back from seeing Inglorious Basterds and was very excited to see an Edwige reference.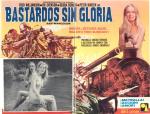 Inglorious Bastards Mexican poster
One of the actors (don't want to spoil it but he was such an odd choice!!!) was named "Ed Fenech". Looks like Tarantino is an Edwige fan (or just a male) but it's great to see some appreciation.