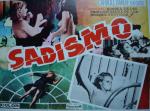 Orgasmo Mexican Lobby Card
Please read above: The Screening of Paranoia has been indefinitely postponed but there is VERY good news!!!!
Coming July 30th to the Angelika Film Center in Dallas, TX, Dallas Cinemania is providing an incredible opportunity to watch Umberto Lenzi's Orgasmo on the big screen. This isn't some blown up DVD image either but an actual film print! Be sure and check out their site for more information and if you're in the area you definitely have to clear your calendars for this one!!


More info on the film (and the common titling confusion) after the jump...


So Orgasmo was released in the US as Paranoia in 1969 and stars Carroll Baker and Lou Castel. But Lenzi also released a movie called Paranoia in 1970 (just a year later) also starring Carroll Baker but co-starring Jean Sorel this time. This film is more commonly known from it's US release title as A Quiet Place to Kill. But, in researching, I found quite a few poster websites that combined these two films as one film called Paranoia starring Carroll Baker, Lou Castel, AND Jean Sorel!!


So, very confusing indeed. Adding to my own confusion when trying to find items from the "original" 1969 film in my own collection, I found the film was released as Sadismo in Mexico. Hence the attached image which is definitely from the 1969 version of Paranoia.