As The Cat o' Nine Tails(1971) opens we see Franco and his young ingenue, Lori, walking down the street. The two overhear a conversation between two men in a car and Franco is intrigued. Oscar-winner Karl Malden (wow, you don't say giallo and Oscar together very often) portrays Franco, a blind ex-newspaperman now obsessed with crossword puzzles. "I like solving puzzles," he later says, explaining his interest in mysteries. When a nearby genetics lab is broken into but nothing stolen, Franco's interest is piqued and he approaches reporter Carlo Giordani to aid in solving the crime.
Giordani (James Franciscus) arrives at the lab to investigate the break in. We meet the head of the laboratory, Professor Terzi, and his daughter Anna, played by the beautiful Catherine Spaak. A worker at the lab, Dr. Calabresi, confides to his girlfriend that something actually was stolen and only he knows what was taken and who did it. Unfortunately, Calabresi has a rather bloody run-in with a train that is first thought to be a suicide but Franco has a hunch and with Giordani's help they examine photos of the incident and see that the doctor was pushed. A further clue is given when young Lori sees the photo and tells Franco that Calebresi was one of the men they overheard talking in the car the day before. The game is afoot!
The title refers to nine leads that the men try to follow and they become more entangled in the cast of characters as they attempt to unravel the mystery. Along the way we get car chases, a trip to a gay bar, a 70s lesson on genetics filled with Argento pseudo-science, and an eccentric cast of characters. Among them is the aptly named "Gigi the Loser", a petty thief who could really benefit from a stint on "Pimp My Ride".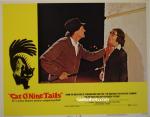 US lobby card #4
Cat O' Nine Tails is skillfully directed by Dario Argento even though he often mentions it as his least favorite film. What's missing is the artistic flair that is uniquely Argento. In many ways, this film is a step back from Argento's debut giallo, The Bird With Crystal Plumage, and fans are likely to be disappointed. I get the impression he was trying to make a more American style film, specifically emulating those of Hitchcock which are, obviously, a large influence on Argento's entire career. The acting is good, especially the chemistry between Spaak and Franciscus (reminiscent of Bogey and Bacall in The Big Sleep) and Malden is excellent as expected. The film is good; it just doesn't feel like an Argento horror film. Thankfully, after this film, Dario Argento struck a new path building his own unique style and re-defining a genre.
When it came time for music, Argento was so desperate that he simply let his next door neighbor score the film. He must have been low on funds or something. Oh wait, did I mention that his neighbor happened to be Ennio Morricone? If not you would know within a few seconds of the opening of the film. Morricone delivers a strong score here and it's one of the best parts of the film.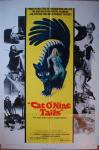 US one-sheet
If you're an Argento fan then Cat O'Nine Tails is a must-see as part of his giallo animal trilogy, ending with Four Flies on Grey Velvet and it's interesting to trace the changes to his style through each film. Personally, I still feel Bird with Crystal Plumage is the best of the three and even rivals his most famous giallo, Deep Red.
Available from Amazon on DVD: