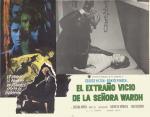 The Ripper claims another victim


Blade of the Ripper or The Strange Vice of Mrs. Wardh opens with a man picking up a prostitute from one of Italy's seemingly endless hooker roads. In less than a minute, said hooker is topless and in the next she is being brutally stabbed. A Sigmund Freud quote is displayed on the screen over a freeze frame shot of a plane which carries our heroine, Edwige Fenech!
Julie (Fenech) lands at the airport where her husband, Neil, is immediately whisked away on business. As Julie's driver takes her home, we learn that the murder we witnessed is just one of a string of serial killings by the "Ripper". But Julie seems distracted by something else: we see a flashback of Julie arguing in a car with Jean, played by Ivan Rassimov (Fenech's stalker in All the Colors of the Dark). Fenech runs from the car in the rain a but Jean pursues her and proceeds to rape her. A note here to Nora Orlandi who provided the "original" music for this scene: Ennio Morricone called and wants his style back.
After arriving home to her sweet 70s apartment (according to the DVD extras, Martino said this was the only interior set and it was converted from a Western) Julie is shaken up by her memories so she decides to get naked. This apparently fills the requirement of giallos that Edwige Fenech has to get naked within the first five minutes and I have no problem with that.
Her husband is still busy so Julie goes to her friend Carol's party where she meets George (George Hilton) right before two girls in aluminum foil dresses rip each other's clothes off. Everything is going fine until Jean shows up and gives Julie a couple of looks as if he wishes she was in an aluminum foil dress. Julie's husband arrives to deliver a manly slap to Jean who runs off laughing as any good sexual-psycho would.
Julie has another flashback involving Jean (let him go already!) where he breaks a bottle over her nude body so they can make love in a bed of broken glass. We learn that Julie had an unhealthy relationship with Jean and that is part of the reason she married her husband but she now doubts her marriage. She eventually succumbs to George's strong advances and they have an affair.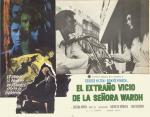 As Julie tries to decide between all the men in her life another young blonde is murdered by the ripper. Julie begins to wonder three things - could one of her men be the killer, is she the next victim, and did George steal his fringed leather jacket from Tonto?
The tormented Julie begins to go crazy as tries to solve the many mysteries surrounding her life and there are more than a few twists before the movie ends.
Blade of the Ripper was Sergio Martino's first giallo and the first of many collaborations between Edwige Fenech and George Hilton. The story is fairly complicated for the genre and begins to get a little too long by the end. But even with the sophistication of a modern audience, I bet you won't see all the twists and turns coming. A few caught me by surprise but I didn't really care by that point.
One requirement of the giallo is sex appeal and Blade of the Ripper definitely delivers, if for no other reason than presenting multiple opportunities for Edwige Fenech to remove her clothes. The broken glass scene offers spectacular visuals as we see the broken glass showering Edwige's naked body in slow motion before the two make love and cut each other on the shards. The underlying implication is that Julie's "strange vice" is her violent sexual desires.
The murders are not particulary gruesome but plentiful enough. Overall though, the movie tends to drag and I think there might be one or two twists too many.

Available from Amazon on DVD

Alternate Titles:
The Strange Vice of Mrs. Wardh
Next!
Lo Strano vizio della Signora Wardh