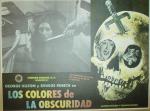 Classic shot of Edwige Fenech from All the Colours of Dark
All the Colors of the Dark opens with a hallucinogenic dream sequence that includes a nude pregnant lady, a killer, and an "Alice in Wonderland" reject. Jane awakens from her dream and decides to take a shower with her clothes on. Not a bad start to this strange entry into the giallo category.
We find out that Jane has been an emotional wreck since losing her baby in a car accident caused by her boyfriend, Richard. Everyone wants to cure her - Richard, a pharmaceutical salesman, makes her drink a weird blue concoction that probably hasn't passed FDA testing; her sister, Barbara, works for a psychiatrist and insists that Jane see him; and the crazy new next-door neighbor thinks that a little devil worship will get her out of her funk.
But we quickly find out that her hallucinations may actually be real as she begins to see a blue-eyed man with a stilleto like the one in her dreams. But is he really there? She's not sure so to escape she decides to ride all by herself in a near-empty subway car. When that doesn't work, she decides that the best way to get away from the killer is to walk all alone in a deserted park. But he still finds her! This guy is good.
After escaping the killer a few more times, Jane finally gives in to her neighbor and is taken to "Black Mass" where a group of devil worshippers led by a Christ-like figure with crazy fingernail extensions create an orgy with Jane at the center. But this only adds to Rosemary's...um, I mean Jane's problems.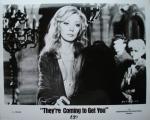 The rest of the film is spent trying the unravel the mystery as Jane tries to determine if she is crazy or everyone is really out to get her. And if so, who is involved? Her husband? Her sister? Freddie Kruger Jesus?
Released in 1972 by director Sergio Martino, All the Colors of the Dark is a really entertaining film. The original score by Bruno Nicolai is fun and funky and fits well with the atmosphere created by Martino. Martino had directed traditional giallos such as The Case of the Scorpion's Tail and Blade of the Ripper but here he throws out convention and creates a truly unique entry in the giallo genre. The climax is especially well-crafted and I really enjoyed the rooftop sequence and I had a tiny Danger: Diabolik flashback...did you get the same thing?
Martino brings together two of his favorite performers, George Hilton as Richard Steele and Edwige Fenech as the heroine, Jane Harrison. And let's just talk about Edwige Fenech for a moment. This woman defines the traditional Italian beauty with long jet-black hair and large expressive eyes framed in more eye makeup than "Alex De Large". Edwige is the queen of the "frightened victim" look with her eyes wide-open shrinking from the camera as she tried to escape the killer. She absolutely smolders on screen and, I have to say, if you're not a fan of seeing her nude, then you would be wise to skip this film; it seems like she is naked more often than clothed. But who am I to judge?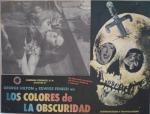 One of the things I found interesting about this film was, in what seems to be a conscious move by Martino, the murders typically occur
off-screen or in dream sequences. The body count is not high anyway but when you don't see the murders, you begin to question just who is the real killer. In fact, the only people that you see die are killed by either Jane or Richard.
My first review, Seven Blood-Stained Orchids, was a traditional, textbook giallo, so I thought it would be fun to review a film that pushes all the boundaries of the genre. Martino tests the limits of the format by eschewing many of the traditional set pieces and seeing what else he could do within the genre.
Available from Amazon on DVD:

Other names:
They're Coming to Get You
Tutti i colori del buio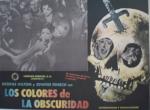 Drinking the Kool-Aid