The not-quite-world-famous "official" Giallo drinking game.
Take a drink if:
-You hear a creepy children's song
-Someone is attacked inside or walking out of an elevator
-A character has more than one cat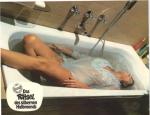 Stay out of the tub!
-A murder is seen through a point of view camera angle
-The police have closed the case before the real killer is discovered
-Someone gets naked within the first minute of the film.
-Someone is attacked on a train
-A hooker is picked up on the side of the road
-You see a bottle of J&B Scotch
-A pair of black gloves is seen opening a door (can be multiple doors in one scene so drink each time)
-A woman takes a bath (never a good idea for longevity in a giallo)
-You see a child's doll or a mannequin
-Someone plays a record player
-More than two hippies are dancing to groovy music
-You see an animal-skin rug
-A doctor is called not because someone is injured but to treat hysteria
-The camera looks up or down a stairwell
-Someone falls to their death